24 May 2022 - 4:47 pm
Gilead for those that don't already know, was a place in ancient Palestine, corresponding to the area of north-western Jordan, which was the scene for a Biblical battle between Gideon and the Midianites the account of which describes Gideon and a small army of 300 specially selected soldiers defeating the Midianites using shock and confusion tactics which led to many of the Midianite soldiers attacking each other.
An interesting concept, the idea of a mere 300 people using shock and confusion to defeat a much larger group of people, mainly by having the members of that large group attack each other. In other news there is a pharmaceutical company called Gilead Sciences that is definitely named after the "balm of Gilead", a resin from the pistacia lentiscus plant used medicinally in antiquity, and nothing at all to do with a tiny group of people using terror to control and defeat a much larger group of people. That is an entirely unrelated complete coincidence, right?
We have looked at the meteoric rise by Gilead Sciences from relative pharma obscurity and then boost to pharma super-stardom before, as as we learned it was all thanks to having connections and board members that were part of the US Government, who hyped a fake pandemic and created a sudden incredible demand for one of their products.
This is a template that has been used again and again to line the pockets of big pharma execs and their allies in Government and the "philanthropic" sector. More recently it has expanded its effects to be more than a simple cash-cow, and obviously is thoroughly woven into the fabric of the Great Reset along with digital identification, central bank digital currencies and all the other futurist metaverse stuff the self-elected Stewards of Earth have decided are required to live in the "modern world", for our benefit of course.
So, this is not specifically a prediction, but looking at what has transpired in the past, recent events and what's going on right now, it looks like there's another company that is on the Road to Gilead, or in other words, is primed to hit the big time, relative to their already considerable financial success.
A company called Bavarian Nordic A/S who's strapline is "An Open World Through Vaccines" had applied to the FDA to license a "Smallpox and Monkeypox Vaccine" with the trade name of "JYNNEOS", with a review stamped date of 19th September 2019, or in American parlance, 9-19-19. I'm sure there's nothing to be read into about that date at all. The document titled "BLA Clinical Review Memorandum" is available on the FDA website (PDF) and is 213 pages long.
This "vaccine" that is also still in the experimental phase, according to that document contains "At Least 0.5 x 108 Infectious Units of Modified Vaccinia Ankara-BN (MVA-BN)". So what is Vaccinia? While it sounds like a magical world where Bill Gates would like to be king, it's actually a cow pox "virus" that is regularly used in recombinant vaccines. Recombinant means (according to Wikipedia) "laboratory methods of genetic recombination (such as molecular cloning) that bring together genetic material from multiple sources, creating sequences that would not otherwise be found in the genome".
There is much to be concerned with regarding the contents of this document for one, and therefore the safety of yet another uncannily timed vaccine. Adverse reactions and elevated levels of troponin that are usually related to cardiac issues caused by MVA-BN, the proprietary version of Vaccinia that is owned by Bavarian Nordic A/S are mentioned in the document but so much of it is vague, imprecise or they just didn't even bother having a placebo-control…
Although differences in AE incidence among the studies were observed, no clear patterns emerged regarding the number and nature of AEs among the different doses and formulations.

Page 188 – https://www.fda.gov/media/131870/download
So as there were no clear patterns, are we bothered? Do we care about the admitted adverse reactions at all if there was no clear pattern? I guess not.
All subjects with elevated troponin levels underwent a cardiologist workup and no clinically meaningful cardiac abnormalities were identified among these subjects. Since there was no placebo-control in these two studies, the increased proportion of subjects with abnormal troponin is uninterpretable.
Who was the cardiologist? Who's paying their salary? And no placebo-control means the "abnormal troponin is uninterpretable" sounds like it was designed specifically to be that way. This is what passes for science, in clinical trials for products intended to be injected into a trusting public that believe every effort has been made to ensure these products are actually safe and effective, as opposed to that being a mere marketing slogan.
There is lots of redacted information, which when it comes to personally identifying aspects of the trial participants is totally understandable, because privacy, although seeing as we're now living in a world where Governments, companies and random people can demand to know your medical status it does make you wonder just how much redaction is actually to do with protecting participants data and privacy, and how much it is to do with hiding things they just don't want the public seeing, especially when you see redactions that are nothing to do with trial participants identity, or "corporate secrets". For example, in the section that begins on page 115 titled "Unsolicited Treatment Emergent Adverse Events (TEAEs)" there is a table…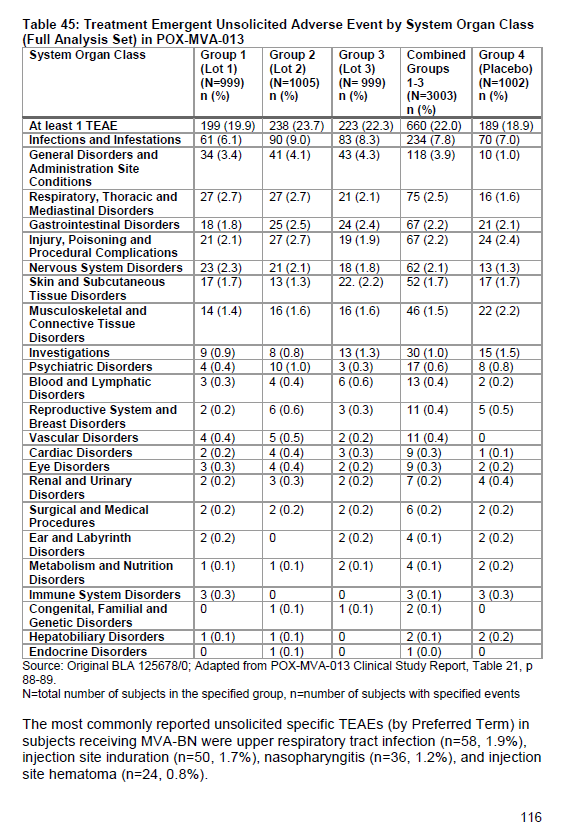 There's quite a lot of "Infections and Infestations", even in the placebo group. Is this because the trial participants, who will have been selected for suitability, are already ill and thus becomes a way of disguising these "unsolicited adverse events"?
On page 123 there is another table titled "Subjects with Serious Adverse Events in POX-MVA-013″…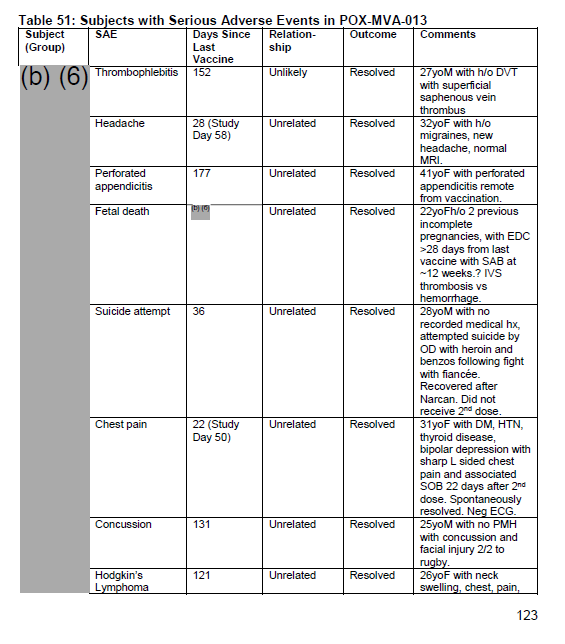 The only SAE (Serious Adverse Event) on that page where they redact the number of "days since last vaccine" is "Fetal death". Why? They do the same thing with "Spontaneous Abortion" on pages 125 and 126, but no other adverse reaction. Seems like they might be trying to hide a close temporal event, i.e. a vaccination and miscarriage very shortly after in order to avoid the obvious association. Maybe.
At the very least, the safety of these vaccines looks dubious, if not outright non-existent.
Bavarian Nordic appear to specialise in smallpox vaccines, although they obviously dabble in other things, they have a COVID-19 vaccine candidate for example. Wikipedia lists their "marketed products and pipeline" list as being:
Imvanex – A smallpox vaccine approved in the EU in July 2013
Imvamune – A smallpox vaccine approved in Canada in November 2013
Jynneos – A smallpox and monkeypox vaccine approved in the US in August 2019
MVA-BN (freeze dried) – A smallpox vaccine in phase 3 trials
Rabipur/RabAvert – A rabies vaccine and treatment purchased from GlaxoSmithKline (GSK) on 31st December 2019
Encepur – European tick-borne encephalitis vaccine also purchased from GSK at the same time
Mvabea – An ebola and marburg virus vaccine, licensed to Janssen (J&J) where a dose of Janssen's primer Zabdeno followed by Bavarian Nordic's "booster" Mvabea is the "vaccine regimen"
MVA-BN RSV – A respiratory syncytial virus (RSV) vaccine in pahse 2 trials
MVA-BN HPV – A human papillomavirus vaccine in phase 2 trials, licensed to Janssen
MVA-BN WEV – A Western equine encephalitis virus vaccine in phase 1 trials, where Bavarian Nordic are "currently in the process of obtaining additional funding from the U.S. authorities for the further clinical advancement" of the vaccine
BN-Brachyury – A product in phase 2 trials related to Chordoma
ABNCoV2 – A COVID-19 vaccine candidate licensed from AdaptVac, the Danish "partner" of Bavarian Nordic who are actually a joint venture between ExpreS2ion Biotech and the University of Copenhagen who's speciality is "proprietary insect cell expression technology" and "proprietary Virus-Like Particle (VLP) technology"
There's a lot of emphasis on smallpox in that portfolio, and obviously the timely introduction of Jynneos, their smallpox/monkeypox vaccine. Given that in one of their trial consent documents there is a section that says:
The world was declared free of smallpox in 1980

https://www.circare.org/consents/pox_mva_011_consentform.pdf
…you might wonder what the fuss is about and why billion dollar companies are bothering with "vaccines" for an eradicated disease. Or if you've heard anything the likes of Bill Gates et el have to say, you'll know that the "recent concern of biowarfare and bioterrorism" this document mentions is ostensibly the motivation, you know, to protect public health as they care so much. As it explains…
Because of the recent concern of biowarfare and bioterrorism throughout the world, the United States government is making efforts to improve its ability to protect its citizens in the event of a bioterrorist attack with the possible use of the smallpox virus (Variola major virus).
Ah, the US Government is making efforts, to "protect its citizens". Ok then. Bavarian Nordic is just helping the US Government shepherd its flock. Bavarian Nordic is also a member of the "Alliance for Biosecurity" as noted on their Wikipedia page. There is a Wikipedia page for the Alliance for Biosecurity although as of today it has a note on it that says:
This article may have been created or edited in return for undisclosed payments, a violation of Wikipedia's terms of use. It may require cleanup to comply with Wikipedia's content policies, particularly neutral point of view. (January 2022)

https://en.wikipedia.org/wiki/Alliance_for_Biosecurity
Regardless of whether in this instance the article was created or edited for "undisclosed payments", something that goes on all the time on Wikipedia, it is an interesting page, and contains all the least surprising things you'd expect from anything related to "biosecurity". From the mission of this Alliance which is to "promote a strong public-private relationship" to its focus of "National security threats such as, bioterrorism pathogens infectious diseases" it has all the hallmarks of the globalist biosecurity agenda and its nefarious methods of legitimising itself.
Formed in 2005, according to Wikipedia the Alliance "conducted a national poll about biosecurity" in 2018 where a massive "Seventy-three percent of the 1,612 Americans polled said they would support a congressional decision to increase funding to address biosecurity needs and capabilities.".
In 2018 the population of the United States was approximately 326,690,000 and this survey asked 1,612 of them about spending billions of tax dollars on this biosecurity stuff. That equates to about 0.000493% of the population. That's less than five ten-thousandths of a percent, totally representative of the American population, right?
This in part was presented to the US Congress in 2018 and was unsurprisingly completely supported so fervently that Bills were passed and spending approved before the end of the current fiscal year for the first time in a decade. This was largely to create "incentives for companies to invest in R&D in products for biodefense, because no commercial markets for such projects exist" according to the Wiki page.
The membership of the Alliance for Biosecurity is listed on Wikipedia as:
Bavarian Nordic
BioCryst
iBio / CC-Pharming
Chimerix
CUBRC, Inc.
Elusys Therapeutics, Inc.
Emergent BioSolutions
GSK
Heat Biologics
Johnson & Johnson/Janssen
Meridian Medical Technologies, a Pfizer Company
Pfenex
Romark Laboratories, L.C.
Seqirus
Siga Technologies, Inc.
Soligenix, Inc.
The Texas A&M University System
This list is slightly different to the one on the Alliance for Biosecurity website "who we are" page which lists:
Regardless of which list is currently accurate, it is quite obvious who the dominant players are, and we can easily trace Government connections back through almost all these companies. It's all OK though, it's just to protect citizens. How this citizen protection works is by the US Government creating projects that hand over billions of taxpayer dollars to selected (and usually connected) companies, who in turn support further legislation and actually gives awards to Congress. As noted on the Wiki page…
The alliance has supported the following legislation:

• 21st Century Cures Act – legislation passed in the U.S. Senate that promotes innovation and efficiency in the development of new medical countermeasures.
• Medical Countermeasures Innovation Act of 2015 – legislation that would encourage the development of medical countermeasures, including drugs, devices and preventative treatments that could be used after a biological terrorist attack or global pandemic.
• Pandemic and All-Hazards Preparedness and Advancing Innovation Act of 2018 (H.R. 6378) – legislation that would reauthorize the Pandemic and All-Hazards Preparedness Act (PAHPA) before its expiration on September 30, 2018. The alliance sent a letter with the U.S. Chamber of Commerce to each member of the House of Representatives urging its passage.
• Strengthening Public Health Emergency Response Act – legislation that creates new research incentives, improves transparency, and creates "predictable and flexible contracting"

The alliance also gives out awards to Congress. For example, in October 2017 it awarded eight Members of Congress, such as Maryland Congressman Dutch Ruppersberger, with its "Congressional Biosecurity Champion Award," which honors elected officials who work to improve how the U.S. can prevent and fight biosecurity threats. In 2019, it gave this award to Rep. Jaime Herrera Beutler (R-WA).

https://en.wikipedia.org/wiki/Alliance_for_Biosecurity
You couldn't make it up. This incestuous relationship with its never-ending circle of awards > support > legislation > dollars > awards that has been going on for years, with the only outcome being an ever-increasing number of pseudo-pandemics and "outbreaks", and the usual unfalsifiable tripe of "it would have been so much worse if we weren't doing this stuff" is a joke. That argument is now totally embedded in the collective consciousness of the majority of the public. Via the COVID-19 injections not doing the one thing they were promised to do, i.e. stop you getting "COVID-19" and that failure being illogically rationalised with the same argument, "I'd have been so much worse if I hadn't had the jabs" hardly anyone seems to bat an eyelid at what should be considered the repeated colossal failure of these Government projects and their public-private partnership gang if you actually believe the nonsense premise in the first place.
It would appear with the emergence of this alleged "Moneypox outbreak", likely engineered as cover for damage being done by the COVID injections and provide yet another distraction, Bavarian Nordic are embarking on their own pilgrimage to Gilead. The U.S. Biomedical Advanced Research and Development Authority (BARDA) have already committed to buying hundreds of millions of dollars of Bavarian Nordic's JYNNEOS vaccine as listed on their website's "news" page. Published on the 18th May 2022 the news item notes that:
Since 2003, Bavarian Nordic has worked with the U.S. government on the development, manufacturing and supply of a non-replicating smallpox vaccine to ensure all populations can be protected from smallpox, including people with weakened immune systems who are at high risk of adverse reactions to traditional smallpox vaccines, which are based on replicating vaccinia virus strains. To date, the Company has supplied nearly 30 million doses of the liquid-frozen version to HHS, with the vast majority being delivered for emergency use before approval of the vaccine by the FDA in 2019.

Since 2009, BARDA has supported the development of a freeze-dried version of the vaccine with longer shelf-life to replace the stockpile and in 2017 awarded the Company a ten-year contract valued at USD 539 million for supply of freeze-dried vaccines. Part of this contract (USD 37 million) has funded the Phase 3 study. Also, under this contract Bavarian Nordic has produced bulk vaccine worth of USD 253 million which will add to the existing stock of bulk manufactured under previous orders, collectively resulting in approximately 13 million doses for future delivery. The majority of the contract (USD 299 million), however, will be realized upon supply of the freeze-dried doses, which will be manufactured at the Company's the new fill-finish facility.

https://www.bavarian-nordic.com/investor/news/news.aspx?news=6569
The US taxpayer is being made to purchase stockpiles of a vaccine for disease that was eradicated over 40 years ago according to the company's own documentation, that sit there and expire, plus fund the studies that are usually corrupt to get them approved, all within a framework developed by the US Government to financially incentivise this market. Obviously the best part of a billion dollars since 2009 is not nearly enough to put Bavarian Nordic on the map like the big players. With more and more Governments around the world embracing this week's fear-porn and also purchasing vaccines, is 2022 going to be their year?