8 July 2021 - 2:10 pm
In a move that should shock nobody, the UK Government has teamed up with a bunch of dating apps to try and tackle the problem they have trying to convince healthy, young and not-at-risk people to take an experimental gene-therapy injection that is already causing deaths and serious permanent injuries to young people.
On the Government website they proudly announced in early June 2021 that "Leading dating apps partner with government to boost vaccine uptake". Naturally this has been informed by a poll from YouGov who claim "59% of adults would either prefer their date to be vaccinated or would not date an unvaccinated person" cited in this press release. If that wasn't compelling enough, there was another YouGov poll that claims "31% of adults would prefer to date someone who was vaccinated and a further 28% would not date someone unless they had received the jab" cited.
Unsurprisingly Vaccine Minister and YouGov founder Nadhim Zahawi was beside himself with joy over these collaborations, as were the CEOs of the various dating app companies who are offering free "boosts", "super-likes", stickers and free credits for "premium features". Users of these apps will also be lucky enough to see adverts for the "every vaccination gives us hope" campaign, presumably funded with taxpayer money.
Alexandre Lubot, the CEO of Match Group who own Tinder, Match, Meetic, OkCupid, Hinge, Pairs, PlentyOfFish, and OurTime amongst others is quoted as saying "We are honoured to work with the UK government to encourage our members to participate in the vaccination campaign across our dating platforms".
If online dating is not your thing don't worry. The Government doesn't want you to feel left out so they have also recruited fast-food delivery service Deliveroo to "boost Government effort". Of course this isn't going to assist you with meeting your dreamboat but this is more about ensuring you stay at home like good boys and girls eating takeaway food and being kept up to date with the latest fear-mongering regarding "variants of concern" and "surge testing" in your area.
As they explain on this Government News Story from the 19th June 2021 the takeaway app will notify customers if surge testing is happening in their postcode area. Will Shu, the CEO of Deliveroo is quoted as saying "We wanted to do our bit to help NHS Test and Trace when they asked." which indicates the Government is actively approaching big companies with lots of visibility and reach into people's lives, particularly young people.
It is noteworthy that at the bottom of this story is the text:
The service is being provided at no extra cost to NHS Test and Trace.

https://www.gov.uk/government/news/deliveroo-to-boost-government-efforts-to-tackle-variants-of-concern
…which due to it's specificity suggests that there is a cost to the taxpayer, it's just not coming directly from the NHS Test and Trace.
If online dating and takeaway food are not your thing, perhaps you enjoy watching or listening to various social media entertainers and "influencers". If so, you'll likely be very happy to hear that those jolly chaps at LAD Bible have got you covered for all your COVID "vaccine" propaganda.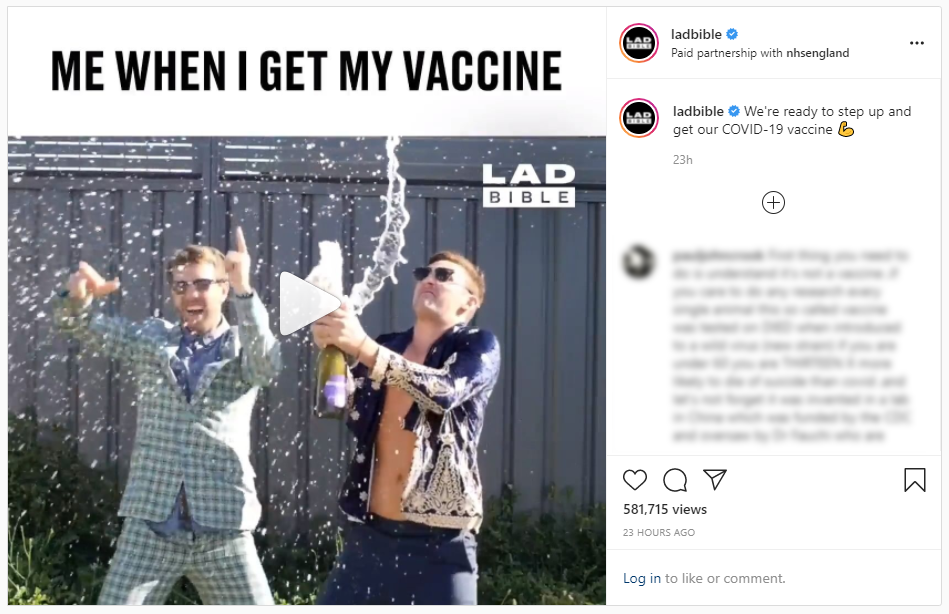 Note the "Paid partnership with nhsengland" tag. Wonderful to see our taxes spent on such worthy causes. It is not hyperbole to point out what collaborators with previous tyrannical Governments have been remembered as years into the future. One can only imagine these collaborators believe the Ministry of Truth has enough "clout" to ensure history remembers them as something other than they are this time around. They are wrong.